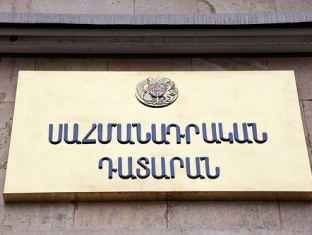 by Astghik Bedevian
(azatutyun.am) – The Armenian parliamentary opposition said on Tuesday that it will appeal to the Constitutional Court to scrap a controversial reform of the national pension system that has triggered continuing street protests by mostly young professionals.
The three opposition parties represented in the National Assembly as well as the Prosperous Armenia Party (BHK) announced the joint action one week after the parliament's pro-government majority rejected their proposal to postpone the upcoming entry into force of a corresponding government bill.
The bill, effective from January 1, will require Armenians under the age of 40 to pay more social security taxes. The unpopular measure stems from Armenia's transition to a new system whereby the amount of pensions will depend on workers' lifelong contributions to pension funds.
Hundreds of people have demonstrated against it in recent weeks. The parliamentary minority has backed their demands, saying that the reform is unfair as it will cut the real incomes of scores of people.
Minority leaders said they will ask the Constitutional Court to declare the reform unconstitutional. They claimed that it breaches, among other things, citizens' property rights guaranteed by the Armenian constitution.
Artsvik Minasian, a deputy from the Armenian Revolutionary Federation (Dashaktsutyun), said the minority leaders have already collected more than 27 signatures of lawmakers needed for the appeal. He said they hope that the court will back their demands despite its long record of rulings favoring the government.
Another opposition lawmaker, Zaruhi Postanjian, said disaffected workers should continue their protests during the court action. She again called for a nationwide strike that would "paralyze the work of the state apparatus."
The parliamentary majority leader, Galust Sahakian, dismissed the opposition challenge and again defended the reform. "I don't think that there is anything for the Constitutional Court to examine," he told RFE/RL's Armenian service (Azatutyun.am).