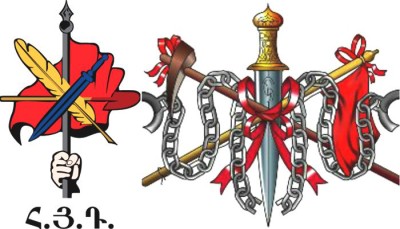 (aravot.am) Representatives from the ARF-D and Social Democrat Hunchak Party (SDHP) met on November 27 at the ARF-D "Kristapor Mikayelian" headquarters in Yerevan. ARF-D was represented by its Bureau Chairman Hrant Margaryan and Bureau member Levon Mkrtchyan whilst Central Executive Chairman Hakob Tigranyan and Vice-Chairman, member of the Lebanese parliament Sebouh Kalpakian attended on behalf of SDHP.
During the meeting, once again the cooperation between the two parties was positively assessed. The necessity to improve even more the relations between the homeland and Diaspora, and the importance of the role of both parties in this direction was highlighted by the interlocutors.
The parties also discussed about the foreign and domestic challenges that Armenia faces and the necessary steps that need to be taken accordingly. Once more the role of the political parties who have a clear ideological framework was underscored.
The parties committed to hold more meetings in order to discuss issues of national and panarmenian interest, and agreed on the need of cooperation between them.
ARF-D Press Office