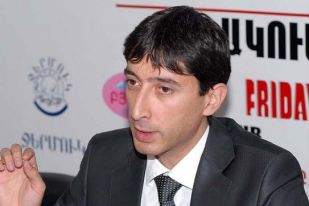 Natural gas prices will go up by 37.5 percent on April as was confirmed following a decision by a public utilities regulatory body today to largely approve an Armenian gas monopoly's hike bid.
The new price of natural gas set for consumers is only insignificantly lower than that requested by ArmRosgazprom (ARG), a joint Russian-Armenian national gas distribution company.
As approved by the Public Services Regulatory Commission (PSRC), beginning April 1 ARG will start selling 1,000 cubic meters of gas to its nearly half a million consumers at a price of 132,000 drams (about $347), instead of the current price of 96,000 drams (about $252). Meanwhile, the gas price for large gas consumers, i.e. industrial enterprises, will go up by 13 percent.
ARG submitted a bid for a 41 percent rise in the gas price on January 22 (136 drams per cubic meter). PSRC managed to negotiate that price down to 132 drams.
PSRC explains that the rise in the natural gas tariff reflects a number of factors: "By nearly a 17 percent rise in the price of natural gas imported to Armenia, a sharp appreciation of the US dollar against the Armenian national currency, the dram, about a 20 percent reduction of natural gas consumption, the need for ARG to recover its investments."
Economists estimate that higher gas prices might entail a 15 percent average rise in electricity, water supply and consumer goods prices.
"When we raised this question during discussion of the 2010 budget, the government said that they were concerned by the question of inflation, but it is already clear that the price rise for gas as the main energy source will lead to increases in the prices of other products," said Artsvik Minasyan, a deputy in parliament from the ARF-Dashnaktsutyun party. "The government must propose salary and pension increases, or at least work out a mechanism of subsidies."
The Armenian Revolutionary Federation (Dashnaktsutyun) has voiced strict criticism of the social and economic policies being pursued by the government. Its representatives in parliament, including economist Ara Nranyan, do not rule out the possibility of a social upheaval in the country.
In the crisis year of 2009 Armenia managed to avoid social upheavals that the 14 percent economic decline could have caused and that was largely due to foreign loans that the government received to alleviate the consequences of the global recession. Salaries and social pensions were paid in time, state social programs were implemented in time. Armenia's solvency, however, has reduced this year as a result of that borrowing and there is no information on attraction of new credits yet. Economists say one should not rely on foreign aid anymore, especially that Armenia's foreign debt has already reached the level of 46 percent of Gross Domestic Product. They advise seeking resources within the economy, stimulate the development of small and medium-sized business – "to the detriment of monopolies."
The government of Armenia expects an economic growth of 1.2 percent this year, which some experts do not trust given the worst economic performance, a 14.4 percent fall, showed by Armenia among former Soviet countries in 2009.
Monopolization of the economy and the presence of oligopolies are cited as causes of the economic slump and slow recovery.
"Our monopolists in fact got a large share on the market not as a result of their competent economic activities, but because of the monopoly status," said economist Ara Nranyan, a member of parliament with the Armenian Revolutionary Federation (Dashnaktsutyun) faction.