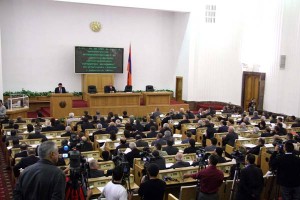 The National Assembly of Armenia by emergency procedure passed draft amendments to the RA Law on International Treaties (with an overwhelming majority (70/4) of votes) which many see as Armenia's mapped-out exit strategy from the Armenian-Turkish protocol process.
The adoption of this draft is mainly connected with the Zurich protocols on the establishment of diplomatic relations between Armenia and Turkey and is an opportunity to annul all international agreements before they come into force.
The Armenian Revolutionary Federation (ARF) Dashnaktsutyun, which during the first reading voted for the draft, did not participate in the final voting as a sign of protest, because their suggestions had not been accepted.
"We, as a party which says 'No' to the protocols, were for the draft, but it was supposed to be enlarged, and it would be more complete if our suggestions were accepted," ARF MP Armen Rustamyan told the media.
Dashnaktsutyun suggested including a term in the draft, according to which not only the executive (government) but also the legislative body (parliament) would be entitled to terminate the process of signing and ratifying international agreements. ARF also demanded granting the legislative body with a right to make reservations while ratifying agreements.