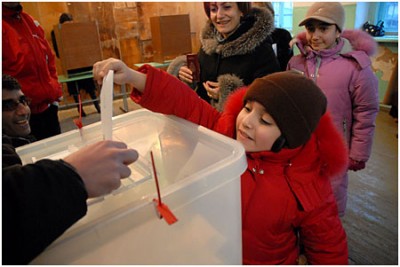 On September 6, the parliamentary faction of the Armenian Revolutionary Federation-Dashnaktsutyun (ARF-D) rejected the government's proposed electoral reforms, which the ruling party drafted in response to pressure from the Parliamentary Assembly of the Council of Europe (PACE).
The other opposition party in parliament, the Heritage Party, also rejected the government's plan. Both parties have come up with an alternative reform plan which they believe will address and tackle chronic flaws in the electoral process in the country.
According to an article which appeared on RFE/RL, PACE had pressed Armenian authorities to carry out wide-ranging political reforms that would address the lingering political fallout from the 2008 post-election unrest in Yerevan. It received a "roadmap" of relevant measures from parliament speaker Hovik Abrahamyan earlier this year, which entailed some changes in Armenia's electoral, judicial and law-enforcement legislation.
In their preliminary assessment of the plan back in June, John Prescott and Georges Colombier PACE Monitoring Committee's two co-rapporteurs on Armenia, gave a mixed review of the plan. While they expressed some satisfaction with the proposed reforms, they said the authorities in Yerevan had failed to cooperate with the opposition in drawing up a new electoral code.
The Armenian parliament majority subsequently submitted the draft code to the Council of Europe's Venice Commission for examination. According to Stepan Safaryan, head of the Heritage Party's parliamentary faction, the leaders of the ruling Republican Party falsely claimed that the opposition minority was also involved in the design of the draft document.
"We decided to send our own package because it is expected that representatives of the Venice Commission will visit Yerevan in September," explained Armen Rustamyan, chairman of the ARF-D Supreme Council of Armenia. "We will then have a frank conversation with them."
Both Safaryan and Rustamyan stated that the parliament majority is ready to enact only "cosmetic" measures that would not preclude various irregularities that have marred just about every election held in Armenia since independence. The 11-point document drawn up by the two opposition parties envisages far more radical changes.
One of those changes would give pro-government and opposition groups in parliament equal representation in election commissions. Under another proposal, the latter would have to videotape voting and counting of ballots and publish all election-related documents.
The ARF-D and the Heritage Party also want all 131 parliament seats to be contested on a party list basis. Under the existing electoral legislation, 56 of those seats are distributed in single-mandate constituencies across the country.