YEREVAN — The Armenian state is dangerously being mismanaged, warned a member of the Armenian Revolutionary Federation-Dashnaktsutyun's parliamentary faction on Friday.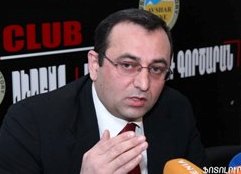 Speaking to reporters in Yerevan, Artsvik Minasyan said widespread incompetence plagues nearly all sectors of Armenia's government and industry, from the irresponsible management of natural resources, to negligent and poorly thought out legislation.
The Armenian government, he said, has failed in virtually all of the programs, which it pledged to implement immediately after forming the coalition government after the 2008 presidential elections.
"Instead of revising its positions and defining a way out of this crisis with other members of the coalition, the government continues its 'anti-competition and anti-social policies' approach," he said. "The government is reluctant to crackdown on monopolies, stimulate economic development or raise the living standards of its citizens."
The true depth of this incompetence, he argued, is reflected in the government's 2011 budget. "It is not a pro-active budget as the authorities claim," Minasyan said. "It does not envisage a rise in wages, benefits or other social allowances. It does not encourage small and medium businesses growth and does nothing to create equal opportunities for all citizens."
Minasyan suggested that a way out of the crisis can begin with the government's revision of its fiscal, credit, and monetary policies, along with the implementation of policies designed to boost local production and encourage domestic economic sectors that will decrease Armenia's heavy dependence on its import economy.
He said such a shift in approach could "help raise employment levels in Armenia from the current 48% to at least 65%." Minasyan also suggested the government cut tax rates for small and medium companies and adopt progressive and regressive tax policies.