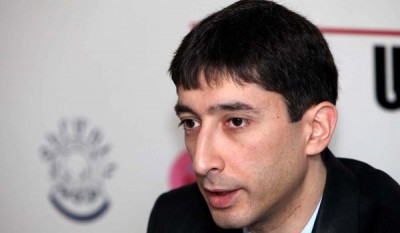 Member of the parliamentary faction of the Armenian Revolutionary Federation-Dashnaktsutyun, economist Ara Nranyan said at a press conference Wednesday that the economic polices implemented by the Government of Armenia in recent months not only do not suppress inflation and crisis, but rather by themselves "create crisis and inflation."
"The government raises the value of money, and tries to suppress inflation through the management of the dram mass, which is absurd. The government, in fact, suppresses citizens' income, and economic growth, it decreases the circulating funds in the economy, aiming to fight inflation," said Nranyan, a member of the National Assembly Standing Committee on Economic Affairs.
During last year essential living expenses rose by 8 percent in Armenia when the inflation was around 10 percent. Nranyan suggests the government take some steps to prevent inflation which rises day by day, including using reserve funds to combat price fluctuations.
According to Nranyan, the recent bills submitted to parliament by the government will deepen social tension; for example the amendments to the RA Law "On Labor Code" that calls for a six-day work week will, he claims, give employers an opportunity get superprofit by means of not hiring new employees and exploiting the old ones. The MP further predicts that the current conditions will develop into social discontent that will influence the 2012 parliamentary elections.