George Papandreou, Alpha Condé, Jalal Talabani, Ricardo Lagos
El País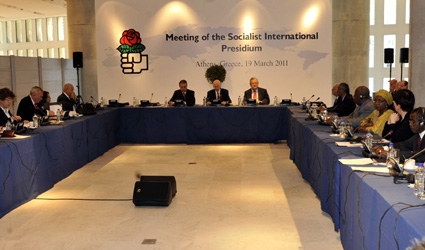 Inspirational movements have been sweeping the Arab world, driven forward by people united by a common purpose. It is about political, social and economic change. Political change to secure an open, democratic, and modern state based on respect for the freedoms and rights of the people. Social change to root out corruption, favouritism, patronage and the increasing marginalisation and alienation of large sectors of society, in particular the new generations who, without opportunity or hope, are taking to the streets. Economic change to provide jobs and prospects for those who desperately need them and to reduce the chronic poverty which touches millions who deserve a better future.
With these movements we are reliving the same struggles that were fought in other parts of the world for democracy, for civil rights, for equal opportunities. What we see now in North Africa and the Middle East reminds us of previous experiences in Central and Eastern Europe, where the will of the people overcame autocratic regimes. Before this, Southern Europe and Latin America too experienced their own transitions from authoritarianism to democracy, in which social democratic, labour or socialist parties of the Socialist International were instrumental.
Now, elsewhere in Africa, social democratic parties of the Socialist International are making a telling contribution to democracy. Among the latest, a government under the leadership of President John Atta Mills has been changing Ghana for the better since 2009; in Guinea Alpha Condé was sworn in as President last December following the first free and fair elections in the history of the country; the transition of Niger to democracy, now in its final phase following the second round of the presidential and parliamentary elections on 12 March, is being led by SI Vice-President Mahamadou Issoufou who will be inaugurated as President on 6 April.
Social democracy, with its vision of a common humanity, has been gaining in influence and credibility in many of the world's new democracies. Indeed, in many places around the world we can see today the results of the intensive networking, discussions, experience sharing and mutual encouragement and support emanating from the Socialist International. Many political parties arrive at its door from all corners of the world, from very diverse realities, cultures and experiences, and much of the time from a troubled past of conflict or dictatorship, to embark on a new hopeful path for progress. There, all together, they are giving life to a new global social democracy and to a real and renewed internationalism with new concepts and new ambitions.
In line with this, the International has been a forum in recent years to develop a unified social democratic response to the ongoing global financial crisis. Through the work of its Commissions and Committees, Council debates at the United Nations or at the OECD, in discussions in Europe, Africa, Latin America or Asia, proposals for a tax on financial transactions, strategies for growth and the creation of jobs or the definition of priorities to advance in the fight against poverty have found their place in party programmes or government policies.
Climate change, the great challenge facing this generation, equally holds a central place in the work of the Socialist International. Its Commission for a Sustainable World Society has engaged governments, leaders, experts from Southern Africa to China, from the Maldives to Chile, from North America to Russia in defining a set of specific proposals contained in the Report "From a High Carbon Economy to a Low Carbon Society", a product of an intensive programme of exchanges and activities which have reverberated in Copenhagen and Cancun. A new doctrine of 'climate justice' involving the strongest and the weakest resulted from all these efforts.
If peace came to be the single most important issue for social democracy in the past, today in a very different world, it continues to top our agenda. Despite profound differences between Palestinians and Israelis, affecting our own members in the region, it was still possible in the Socialist International for both sides to find common agreement on how to move forward. Similarly, just months ago, under the auspices of the International, Armenians and Azerbaijanis were able to come together to discuss common ground on a most intractable problem, that of Nagorno-Karabagh, and it is under the Socialist International umbrella that Moroccans and Saharawi representatives share the same platform to present their views, and conflicts such as those in Nepal or in the Balkans have a hearing.
In all these areas, democracy, the global economy, climate change and peace and conflict resolution, the International has been breaking new ground in recent years, appealing for a true internationalism at a time when political agendas are narrowing down to predominantly national interests at the exclusion of common and shared objectives for the broader international community.
A global democratic conditionality is being put in place by the democratic revolutions in the Arab world which signal strongly that nowhere are people ready to accept anything other than democracy. All countries and international institutions should take notice and have the courage and foresight that the hour demands. Here Europe has much to do, as do our friends in other continents.
But there is more. A conditionality of solidarity is equally required to effectively respond to those awaiting support in their democratic struggles, as in the Arab world today. Solidarity is also a condition to achieve a more fair global economy and a successful deal on climate change that protects the planet and those who are most vulnerable. In the same way solidarity is necessary to secure peace everywhere. Every initiative of our International is an active response to the continuous need to assert this solidarity without which the promise of social democracy cannot exist.
—
George Papandreou, Prime Minister of Greece; Alpha Condé, President of the Republic of Guinea; Jalal Talabani, President of the Republic of Iraq; Ricardo Lagos, President of the Republic of Chile 2000-2006