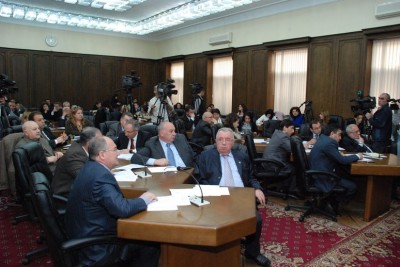 The National Assembly Standing Committee on Economic Affairs organized parliamentary hearings on Creating Ad-hoc Inquiry Committee of the National Assembly on the Gas Supply System.
The authors of RA NA decision draft on Creating Ad-hoc Inquiry Committee of the National Assembly of RA Gas Supply System are the ARF-Dashnaktsutyun parliamentary faction members Vahan Hovhannesyan, Artsvik Minasyan, Artyush Shahbazyan and Hrayr Karapetyan. The decision draft was debated in special order at NA plenary session, the voting was postponed by the authors' proposal.
NA deputies, ministries, responsible persons of the sphere, representatives of the NGOs and other concerned organizations, journalists took part in the debate.
The head of the ARF-D faction Vahan Hovhannisyan gave a speech on this issue. He highlighted the last amendment made by RA President's proposal.
In the opinion of the head of the ARF faction a number of questions exist in the system, to which neither the deputies, nor the community have answers, thus the faction initiated a decision draft on creating NA Ad-hoc Committee, taking the advantage of the right prescribed by the Constitution. According to him, a number of issues refer to the consumers' service, specification of gas meters and quality of the supplying gas.
The authors of the draft want to know what actions are designed for restraining the rise of the price of goods and services as a consequence of the gas tariff, as well as for preventing the fall of the living standards of the population.
The Chairman of the RA Public Services Regulatory Commission Robert Nazaryan touched upon this and other issues in his speech. Robert Nazaryan noted that in many European countries, except Russia and Ukraine, gas tariff prices are much higher, in response to which some of the MPs noticed that in the enumerated countries the salaries are respectively high.
RA Energy and Natural Resources Minister Armen Movsisyan during the question-and-answer noted that Armenia expected the regulation of the issue by the development of the economy and the availability of high salaries.
The key speakers answered the participants' numerous and various questions, presented their views.
The participants' opinions were different on creating NA Ad hoc Committee, and as a result of the debate, the conviction on creating the Ad hoc Committee was strengthened, as new questions and new facts came out.
Summing up the parliamentary hearings Vardan Ayvazyan noticed that the raised issues would be debated in the Committee.