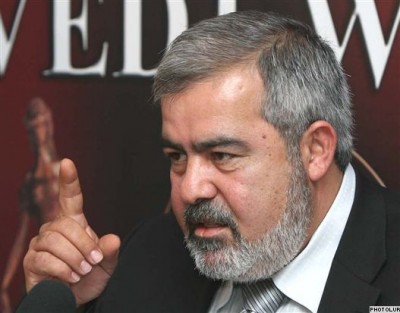 President Serzh Sargsyan could call fresh parliamentary elections soon in an effort to maximize his and his allies' chances of holding on to power, a leader of the opposition Armenian Revolutionary Federation-Dashnaktsutyun said on Wednesday.
Hrant Margaryan, chairman of the party's governing Bureau, also acknowledged that the rival Armenian National Congress (HAK) of former President Levon Ter-Petrossian remains the country's leading opposition force.
"That is a reality," Margaryan told RFE/RL's Armenian service in an interview. "The HAK plays the key opposition role."
"But just as we didn't allow anyone to look down and impose their will on us when we were in government, we won't allow that to happen now," he said, rejecting HAK leaders' belief that everyone seeking government change in the country should join Ter-Petrossian's bloc.
The HAK launched in February a fresh campaign of antigovernment rallies aimed at forcing Sargsyan to call fresh presidential and parliamentary elections.
In Margaryan's words, snap legislative polls would benefit only the Armenian government and it could therefore agree to hold them. "For some reason the authorities themselves could initiate pre-term parliamentary elections," he said. "The main concern of the authorities now is the forthcoming elections."
Margaryan made clear that Dashnaktsutyun will not join any alliances ahead of the next elections and will contest them on its own. He said it is also extremely unlikely to join a new coalition government that could be formed by Sargsyan in the future.
"If the situation remains the same, if the same forces succeed with the same approaches, we will definitely not participate," he said. "But I don't want to rule out everything because nothing is impossible in politics."
Dashnaktsutyun entered Sargsyan's coalition cabinet formed in the wake of the February 2008 presidential election and deadly street clashes sparked by it. It pulled out of the governing coalition in April 2009 in protest against the president's controversial policy of rapprochement with Turkey.
Margaryan noted with satisfaction that both Sargsyan and Ter-Petrossian, who was the main opposition candidate in the 2008, now seem to recognize the need to prevent a repeat of the 2008 unrest. "I find that positive," he said.
Astghik Bedevian