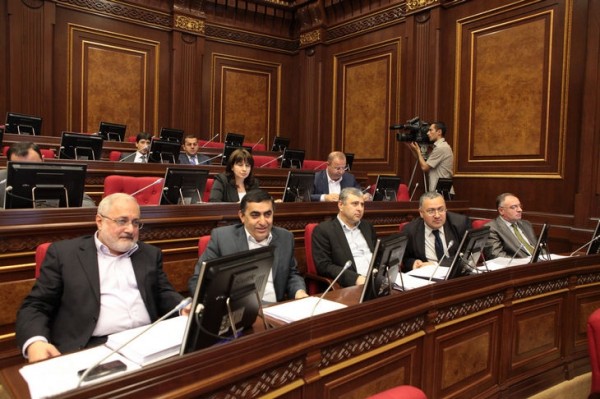 The Armenian Revolutionary Federation-Dashnaktsutyun demanded the resignation of Prime Minister Tigran Sargsyan and his coalition cabinet, over its failed socio-economic policies and inability to curb inflation and emigration.
During a meeting in the National Assembly on Wednesday, the Dashnaktsutyun's parliamentary faction criticized the government. It also tried unsuccessfully to get the legislative body support a motion to ask the president to sack the government. However, only 10 deputies of the 131-seat National Assembly backed the motion, while 13 voted against it in a procedure that failed to reach a quorum as most of the present majority members opted out of the ballot.
The Armenian parliament is controlled by three pro-establishment parties holding ministerial portfolios in the executive. Dashnaktsutyun holds 16 parliament seats.
Addressing the parliament before the vote, Dashnaktsutyun lawmakers accused the government of failing to reduce poverty and improve the broader economic situation in Armenia.
Head of Dashnaktsutyun's parliamentary faction Vahan Hovhannesyan said by parliamentary rules the motion can be reintroduced in four months, adding, however, that "the country will be in a worse shape and the government will find itself in a more complicated situation."
ARF-D Supreme Council of Armenia chairman Armen Rustamyan said that the government's responses to Dashnaktsutyun concerns about its socioeconomic policies have been inadequate. He said the government's efforts to blame the previous administration for the current shortcomings did not "properly address the faction's concerns, and, in fact, the explanation proved the point."
Prime Minister Sargsyan described the resignation demand as "normal" and linked it with parliamentary elections due next year. He also downplayed the fact that only 13 deputies voted against the Dashnaktsutyun motion. "Our deputies don't find this issue important, understanding its political content," Sargsyan told reporters.
Dashnaktsutyun deputies claimed, however, that many pro-government lawmakers are unhappy with Tigran Sargsyan but are afraid of speaking out.