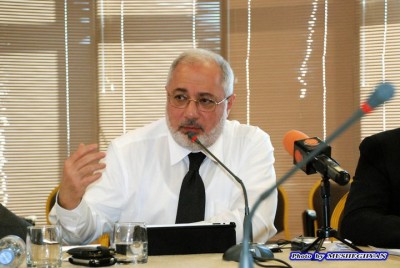 Today during a meeting with the Press, the Head of ARF-D Parliamentary Faction and Chairman of the Armenian delegation to the Euronest Parliamentary Assembly Vahan Hovhannesyan referred to Euronest's latest session and to the work done by the Armenian Delegation.
As far as the forthcoming parliamentary elections is concerned Hovhannesyan told the Press that ARF-D like any other political party, wants to secure as many seats as possible. He also said that if ARF-D's proposition to pass to a 100% proportional electoral system is rejected then the Party will probably nominate its candidates or support candidates of the opposition parties in at least the major single-seat constituencies.
Hovhannesyan urged the people to exercise their right to vote no matter if they are frustrated or have no confidence in the results, consider themselves extraordinary intelligent or feel exhausted because as he said "abstention is like voting for the regime".