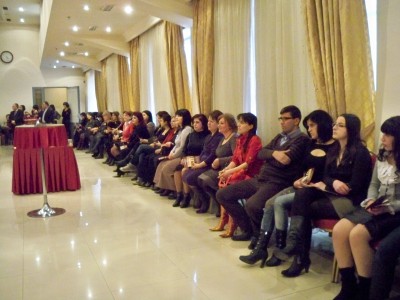 On March 7, on the occasion of International Women's Day the ARF-D organized a ceremony to award seven women for their contribution in different aspects of social life in Armenia. The event took place at Ani Hotel, downtown Yerevan. The logo reflected the evening's main point; "They are Present".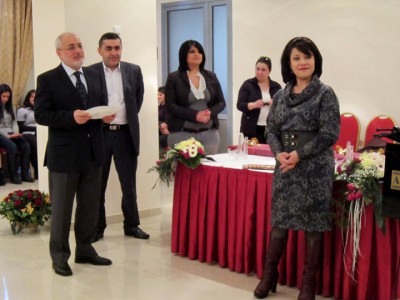 Head of Center for disabled children and youth, Arpine Abrahamyan, poet Violet Grigoryan, environmentalist Karine Danielyan, journalist Anna Israyelyan, "Grakan Tert" editor Karine Khodikyan, ArtBridge bookstore-café's director Shake Karapetyan and mezzo-soprano Anna Maylyan received their awards; seven plates, uniquely painted for each one by Hasmik Sevoyan. The awards were presented by ARF-D Bureau member Vahan Hovhannesyan and Supreme Council Chairman Armen Rustamyan following a short introduction made by AYF Armenia members.
The event was hosted by Socialist International's Vice-President Maria Titizian.
On behalf of ARF-D Vahan Hovhannesyan congratulated all women and mentioned that progress-making nations are those where women are free.