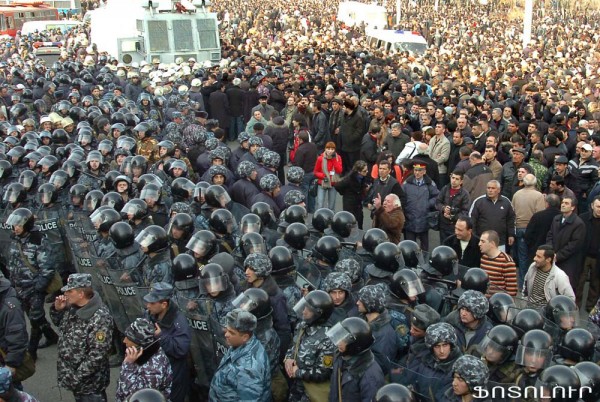 On March 21, the coalition government parties, which constitute the majority of the Armenian Parliament, amidst strongly expressed concerns by the opposition ARF-Dashnaktsutyun and Heritage, approved "The Legal Regime Of The State Of Emergency" draft bill's amendments. According to the opposition, certain jurisdictions of the Parliament are being restrained by the amended bill and will make it easier for the authorities to use the army for suppressing street protests.
The amended bill is supposed to regulate the declaration and enforcement of a state of emergency in Armenia. It stipulates that the president of the republic can declare emergency rule if there is an "immediate danger to constitutional order," including attempts to forcibly seize power, terrorism and "mass disturbances."
The bill allows the head of state to turn to the armed forces if police and other security forces are unable to enforce emergency rule. In that case, military personnel will be allowed to use riot equipment and live ammunition in accordance with an Armenian law on the police. According to the ARF-D the involvement of the armed forces in internal political matters is unconstitutional, hence it had proposed to remove the amendment.
The opposition in and out of the parliament expressed serious concern about the bill immediately after it was circulated earlier this year. They claimed that the authorities are preparing ground for future use of the armed forces against political dissent.
In response to the opposition objections, the government modified the draft law before the National Assembly approved it in the first reading on March 1. Opposition leaders dismissed the changes as cosmetic.
The parliament leadership on Wednesday postponed a second-reading vote on the bill by 20 minutes at the request of the opposition ARF-Dashnaktsutyun. "I just hope that deputies from the ruling parties will get tired, leave the auditorium and the law will not pass," Vahan Hovhannesyan, Dashnaktsutyun's parliamentary leader, explained to RFE/RL's Armenian service.
Nevertheless, 68 deputies of the 131-member assembly voted for the bill after the break. Opponents of the bill, among them some deputies from the pro-government Prosperous Armenia Party, did not take part in the vote.