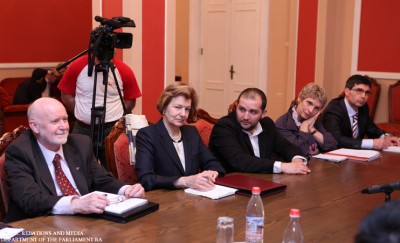 Members of ARF-D Parliamentary Faction, Vahan Hovhannesyan, Artsvik Minasyan and Lilit Galstyan met with the PACE pre-electoral delegation, in the frame of the latter's visit to Armenia. The ARF-D members expressed their concern over conducting fair and free elections. The possible use of administrative resources, the unequal conditions of the campaigning, the collecting of identification documents were also mentioned by the ARF-D side as clear malfunctioning indications. The need of an Inter-Party Center For Public Oversight Of the Elections, that was recently established and the effectiveness of coordination of efforts aiming at the supervision of the elections were also discussed.
According to www.news.am, Galstyan said to her interlocutors that the social-economic state and the high level of poverty are obstacles to the exercise of the rights to free expression and suffrage. Additionally, the lack of political culture turns to be quite obvious when ideology is not the source of the voting criteria.
Vahan Hovhannesyan talking about the ARF-D initiative of the "Vote is Power" movement said that it is open to everyone and could serve as a ground for cooperation.
The ARF-D members found positive the delegation's long-term and vast presentation in the process of having an elections process fitting the democratic criteria.