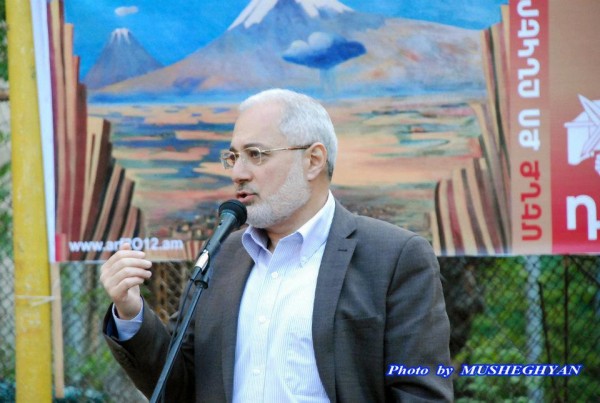 In case of election fraud, the Joint Inter-Party Center For Public Oversight Of Elections which includes ARF-D, the Armenian National Congress (HAK) and Prosperous Armenia (BHK) could hold joint actions. "Joint actions, joint positions on issues are possible" said the Head of ARF-D's proportional list, Vahan Hovhannesyan adding that "this doesn't mean that a bloc or an alliance would be formed".
Replying to a question by Azatutuyn Radio station about taking these actions to the streets, Hovhannesyan said that "if the counterfeit takes place on a state level, then the authorities, the ruling party, the central or other electoral commission are responsible. If that's the case, then of course the wave of protest is unavoidable" he stated underlining at the same time, the importance of proving the counterfeit incidents.
Sharing his impressions of the pre-electoral rallies that have taken place so far, the ARF-D candidate expressed his belief that the people have started standing up. "It seems as their coming out of that poor state of always obeying the local authorities" he said.
Referring to the polls, Hovhannesyan said that it is clear that they have been dictated and argued that those offices conducting the polls can provide any given result.