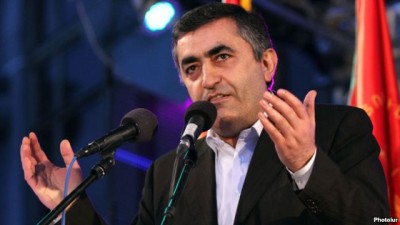 The Armenian Revolutionary Federation-Dashnaktsutyun will not join a new governing coalition that could be formed as a result of this month's parliamentary elections, Armen Rustamyan, chairman of the ARF-D Supreme COuncil of Armenia said on Tuesday.
Rustamyan denied media claims that President Serzh Sargsyan has held post-election talks with Dashnaktsutyun representatives and offered them to join his government.
"There have been no such discussions because we have made our views clear," Rustamyan told RFE/RL's Armenian service (Azatutyun.am). "Right after the elections we said that there is no question of joining a coalition and that the program of complete regime change remains on our agenda."
Dashnaktsutyun, which was part of the outgoing coalition government until 2009, has strongly criticized the Armenian authorities' handling of the May 6 elections. Along with two other major political groups, it has challenged the credibility of their official results that gave a landslide victory to Sargsyan's Republican Party of Armenia (HHK).
The HHK seems ready to strike a power-sharing deal with other forces, notably the Prosperous Armenia Party (BHK), despite winning an absolute majority of seats in the new National Assembly. HHK representatives say the ruling party has been holding talks with not only the BHK but also other, unspecified parties.
Rustamyan suggested that Sargsyan wants to see other political players represented in his new cabinet because of what he described as a widespread lack of trust in the official election outcome. "There is an inferiority complex [within the HHK leadership,]" he said. "They always resort to such steps in order to raise the degree of their legitimacy."
Rustamyan said the Republicans also want to ward off potential challenges to the government ahead of Armenia's next presidential election due in February 2013. "Besides, it's very clear that whatever government is formed now will be a temporary one because a new government will have to be formed after the presidential elections," he added.