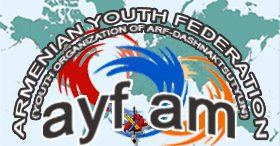 On February 19, 2004 Lieutenant Gurgen Margaryan of the Armenian Armed Forces was violently hacked to death in a racially motivated murder by fellow student, Ramil Safarov, a member of Azerbaijan's Armed Forces during an English language course within the framework of NATO's "Partnership for Peace" program in Budapest, Hungary. Safarov attacked Margaryan while he slept with an ax and killed him after 16 blows. On April 13, 2006 Ramil Safarov was sentenced to life imprisonment for the murder of Gurgen Margaryan in the city of Budapest.
On August 31, 2012 Hungarian authorities extradited Ramil Safarov to Azerbaijan with the understanding that he would serve the remainder of his sentence in his home country. Contrary to this agreement, upon arrival Ramil Safarov was greeted as a national hero and was immediately pardoned by the president of Azerbaijan, who once again proved to the international community that murdering Armenians is not considered a crime.
The Armenian Youth Federation (the youth organization of the ARF) is deeply disappointed by the actions of the Hungarian government. Due to their actions, the Hungarian authorities have created doubt within the Armenian population about joining the European Union and in the enforcement of universal human values adopted by the family of European nations of which Hungary is a member.
The Armenian Youth Federation is convinced that this action undertaken by Hungary and Azerbaijan contributed further to the instability that is dominating the region.
As such, the Armenian Youth Federation demands:
1 – That the Hungarian Socialist Party's youth wing, Societas-New Movement take a position on this issue and condemn the Hungarian authorities for their actions in the extradition of Ramil Safarov.
2 – That the International Union of Socialist Youth (IUSY) and the European Community Organization of Socialist Youth (ECOSY) condemn this action and demand an explanation from their Hungarian member, Societas-New Movement.
We are convinced that the actions undertaken by the governments of Hungary and Azerbaijan are counterproductive to stability in the region, have greatly contributed to the escalation of tension in the region, and the provocation of war. They also contradict the universal principles and values of justice, democracy, and a peaceful world adopted by IUSY and ECOSY.
With Solidarity,
Armenian Youth Federation
(The youth organization of the ARF)
September 5, 2012
Yerevan, Armenia