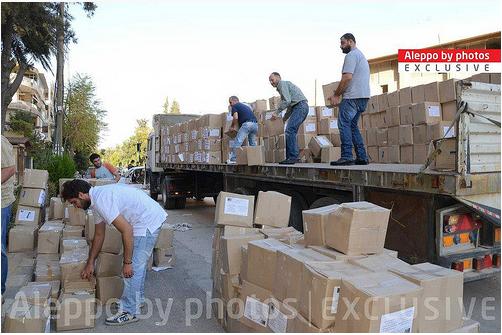 Referring to the "forced' landing, ARF-D Bureau member and "Help Your Brother" coordinator Vahan Hovhannesyan said that the negotiation with Syria and intermediate countries was long. "Turkey made some suggestions in relation to the inspection to which we agreed. There was no deviation and the landing took place as planned" quotes www.aravot.am. He characterized as incendiary and a mere speculation the latest reports coming from Turkish media according to which the Armenian cargo airplane was compelled to land by Turkish military forces. As to why there was no prior announcement or a prompt denial of the false information distributed by foreign media, Hovhannesyan explained that the day before the flight the Turkish authorities had announced that they wouldn't allow the passing-through of their territory of any flight heading to Syria. "Any announcement concerning the flight would carry the risk of imposing the ban to us also" he added. "We pretended we knew nothing about it".
"Turkey's aim was double" says ARF-D Bureau member Vahan Hovhannesyan, "first, to show power with the ligning-up of military force, fire fighting vehicles, mask wearing security personnel and trained dogs and second, to show Russia that all planes are being subjected to inspection and the recent forced landing of the Syrian plane coming from Russia, wasn't intentional".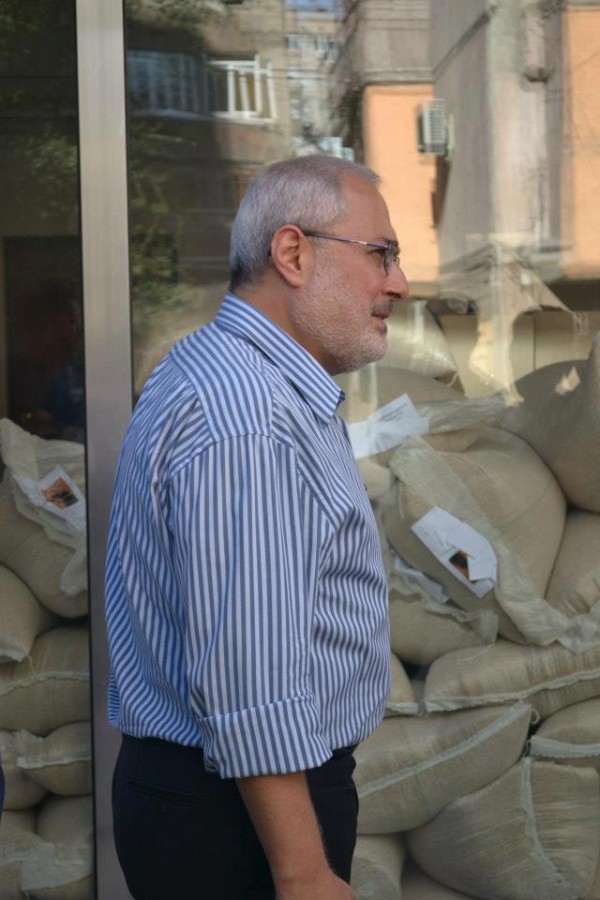 According to 1in.am, Hovhannesyan added that "Nothing was done by force" and that the Armenian side made concessions because the purpose was not to create a conflict but to take the humanitarian aid to its destination. "Still we managed to break through the barrier. I must highlight that the cargo was thoroughly searched. Usually, it's common to check only a part of it and that's all. But here the whole cargo was checked, all 14 tons of it" stated Hovhannesyan and added that there are other itineraries also for the aid to reach Syria, but in this case the one through Turkey was chosen.
The aid is already in the premises of the Armenian Prelacy of Aleppo where the situation is very difficult, said Hovhannesyan and explained that the "Help Your Brother" civic initiative is not in position of assisting all the people in need. However, non Armenians will also be benefited from the aid since it is directed for the neediest people.
Finally, Hovhannesyan pointed out that Armenia must help Diaspora, in the same way that Diaspora has been always reaching a helping hand to Armenia and stated that aid will be continuous. "We haven't asked all the rich businessmen, yet. Armenians in Russia have just started responding. We have received many promises that must still be fulfilled. We have to explain to society that this is not a one-time theatrical show but there ought to be long-lasting actions, if we are truly concerned with the situation in Syria. An agreement to end the conflict doesn't mean that everything will calm down. The exporting potential of Syria is being nullified, trade has paralyzed and this means that the consequences will be long felt".
Hovhannesyan also said that the second cargo plane transferring "Help Your Brother"'s humanitarian aid will be arriving in Syria, soon.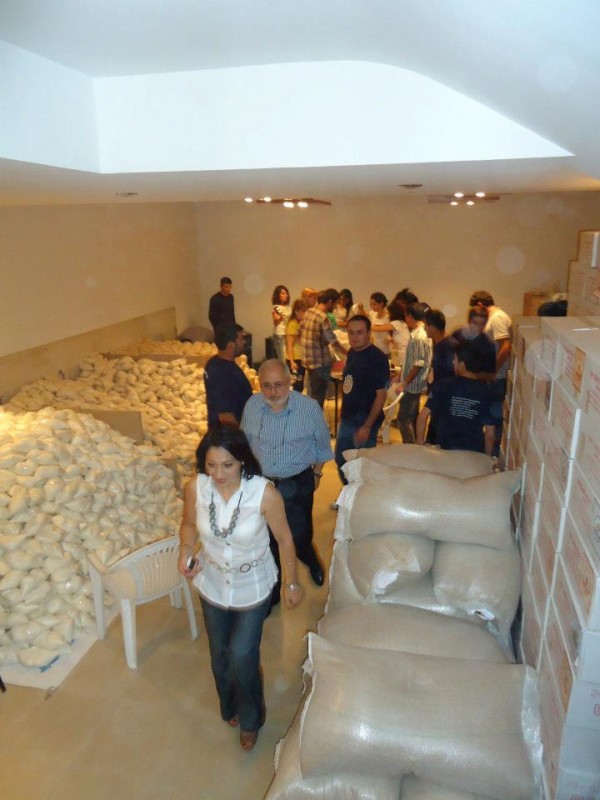 Lilit Galstyan mentioned that almost 30 million AMD has been donated so far and 50 million worth of commodities. "We managed to accumulate almost 40 tons of food aid and first-aid medication" said Galstyan.
Loading-off, Sorting, Distributing
Www.1in.am reports that on October 15, "Help Your Brother" civic initiative's humanitarian aid was loaded-off the airplane, in Aleppo. Talking to 1in.am, the Armenian Prelacy's spokeperson, Jirayr Raysian said that volunteers of the "Syrian Armenian First Aid Body for Emergencies", comprised of representatives from all aspects of the community, went to the airport to bring the aid in the city, after which the distribution process will begin. "It is soon to say whether the aid is sufficient or not because the distribution hasn't yet started" said Raysian. He stressed that not only Armenians but also people of Syrian origin will receive assistance. The volunteers will help anyone who is in need, said Raysian.
Today October 17, Raysian told Armenpress, that the distribution will probably begin in a couple of days. So far, only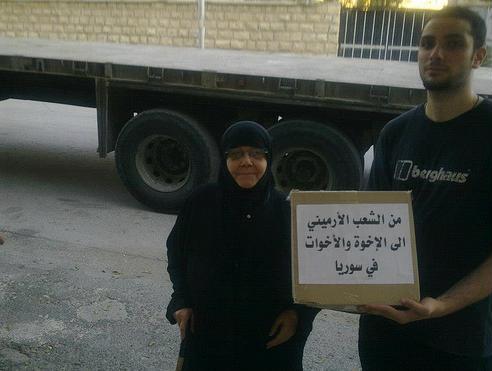 one exception has been made for an Arab woman who waited for a long time in front of the "Aram Manougian" community center. At the moment, staff of the Aleppo mayor and the Red Crescent along with the "Syrian Armenian First Aid Body for Emergencies" is in the process of sorting the boxes. "There are 1400 boxes of aid and they have to be allocated not only to the Aleppo population but also to people of other cities amongst which is Der Zor, that has a special significance for us" he noted.
Raysian hailed this grateful approach of Armenians and added that there apart from the economical value of the aid, there is also a moral one. In their time of need, Syrian Armenians were not forgotten and the Armenian people have come to their help.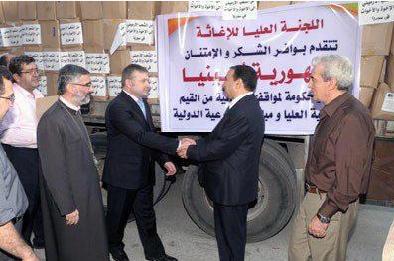 Www.tert.am reports that the aid "was welcomed by Aleppo's governor Wahid Akkad, Armenia's consul in Aleppo Karen Grigorian and primate of Aleppo Diocese of the Armenian Church Archbishop Shahan Sarkissian".
Aleppo governor thanked Armenia for the aid, stressing that it testifies the friendship between the two peoples.
Turkey Ban Affects Armenia Flights to Syria
(California)—Syria's national airline said on Tuesday that it will continue carrying out weekly flights to Armenia despite Turkey's decision to close its airspace to Syrian aircraft.
An official at the Yerevan office of Syrian Air told RFE/RL's Armenian service (Azatutyun.am) that the company's planes will now fly from Aleppo to Yerevan via Iraq and Iran. The diverted flights will last longer and cost slightly more, the official said.
Turkey banned Syrian planes from flying over its territory at the weekend following a further upsurge in cross-border tensions between the two neighboring states. The confrontation escalated since five Turkish civilians were killed when a Syrian shell hit a Turkish border town two weeks ago.


"Help Your Brother" Issues Press Release
On October 15, at 11:15 the first cargo carrying "Help Your Brother" civic initiative's humanitarian aid, a total of 14 tons of food, took off from Zvartnots International Airport. The flight was made possible with Air Armenia company's AN-12 cargo plane and with the Armenian personnel.
According to the initial flight plan that was agreed with the Turkish side, the cargo plane landed in Erzurum airport. Passing the previously agreed inspection, the plane took the humanitarian aid to Aleppo International Airport and returned the same day.
With the assistance of our Syrian-Armenian compatriots, "Help Your Brother" had a major impact on our society's largest layers. Tens of hundreds of our fellow citizens, intellectuals, politicians and businessmen responded to our call to not abandon our brothers in the horror of the war in Syria and to support them both economically and morally.
Contributions have been made as follows,
The Support For Rural Areas Foundation of Mountainous Karabakh Republic
5025 bottles eatable oil
4000 kg indogroats
5000 kg groats
1000 kg pasta
5000 kg wheat
5400 containers of jam
Alex Grig Company
5000 kg sugar
5000 kg rise
5000 bottles eatable oil
Artfood Company
1000 cases eggplant purée
1000 cases preserved eggplant
1000 cases green peas
Ashtarak Kat Company
10000 cream cheese
2000 cases powdered milk
Agrarian University
1000 kg cheese
Mariana Company
500 kg powdered milk
SAS Group Company
160 cases of canned fish
500 cases of green peas
24 cases of pasta
2 cases of tea
The Grand Holding Company, provided the packaging cases.
From September 19, the following donations have been deposited to "Help Your Brother"'s bank account
Gagik Dzaroukyan Charity Foundation, 15 million AMD
Karabakh Telecom, 5 million AMD
Sik Metal Company, 2 million AMD
Armswissbank, 1 million AMD
Armrusgasprom General Director, Vardan Harutyunyan 1 million AMD, Ruben Surenyan, 200.000 AMD, Karen Movsisyan, 200.000 AMD, Garegin Arakelyan, 200.000 AMD, Hrant Datevosyan, 200.000 AMD, Khachatur Baghdasaryan, 200.000 AMD, Sargis Ohanyan, 200.000 AMD,
Proton Company, 500.000 AMD
Isotop Delta Company, 500.000 AMD
Yerevan 19th Outpatient Clinic, Sebastia medical center and Helen-Nare Obstetrics Center employees, 210.000 AMD
Harval Machinery, 200.000 AMD
Nushikyan Association, 150.000 AMD
Garegin Nushikyan, 50.000 AMD
Parliamentary Factions
ARP (HHK), 849.160 AMD
RoL (OEK), 60.000 AMD
ARF-D 56.000 AMD
Anahit Ayvazian, 60.000 AMD
Maral Hasrdjyan, 40.000 AMD
Armen Martirosyan, 10.000 AMD
Harutyun Dzatryan, 5000 AMD
Nariman Smbatyan, 2000 AMD
During the first days, with the initiative of ARF-D Bureau and the contribution of Syrian-Armenian benefactors, the sum of 32.700 USD was collected and allocated to 327 needy Armenian families in Aleppo, each receiving 100 dollars.
Several civic organizations have gathered around our initiative such as: ARS (HOM), Hamazkayin Educational and Cultural Society, Armenia's National Scouts Organization (HMEM), ARF Youth, Junior and Student Associations, Global Armenian Response rescue organization and numerous individuals.
Vivacell MTS provided a SMS number, the income of which will be allocated to "Help Your Brother" account.
Arpimed Company donated first-aid medications.
The Pyunik Foundation's contribution for the organization of the flight was palpable.
Zvarnots International Airport's and Customs employees with their operative thinking and caring stood by the side of the many volunteers during the loading-on of the cargo.
Our civic initiative would like to thank the downtown branch of Areximbank that delivers useful information concerning the transfers made to our bank account.
The "Help Your Brother" would like to express its gratitude to all those individuals, businessmen, political and benevolent organizations that contributed vastly to the well-being of the Syrian Armenians' community that carries the burden of irretrievable casualties.
"Help Your Brother" keeps going.
"Help Your Brother" initiative, 16/10/2012