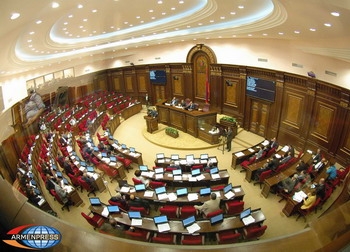 An extraordinary meeting of the Plenary was convened, on November 21, upon the initiative of the opposition parties ARF-D, Prosperous Armenia (BHK), ANC (HAK) and Heritage (Zharangutyun). As it was expected, the ruling party (HHK) deputies weren't present and so the necessary quorum was not provided. Therefore, the discussion over draft laws "On Amending the RA Electoral Code", "On Amending the RA Law on State Register of the Population" and "On Amending the RA Criminal Code" wasn't held.
"It's not a right but an obligation for the majority to be present. The majority is not even aware of this elementary fact, they had to come and be present at the sitting, as in any other case" said the Head of ARF-D Parliamentary Faction, Armen Rustamyan. "With this kind of behavior they bring down to zero the Parliament's role because the Constitution foresees only three ways to convene an extraordinary meeting, upon the initiative of the President, of the government and of the members of Parliament. This way, the majority is saying that the Parliament cannot enjoy its constitutional right" he said.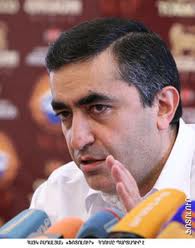 Rustamyan also stated that not only the majority's deputies but the Parliament's chairmanship has violated the rules and so ARF-D is preparing to apply to the Ethics Committee. "Either they have to say that they got all sick under the orders of their leadership and bring a note from a doctor or they must say that they simply couldn't care less about the rules and tell everyone that they don't perform their duties. This is a case of the majority not being responsible" he said.
Commenting on the argument of Armenia's Republican Party that the Electoral Code cannot change only a few months prior to the presidential election, Rustamyan said "They had to say all that during the sitting and not boycott it. We are not compelling them to come and agree but we are telling them to come and debate. They even refuse to debate. This is simply an act of contempt against the state's system" he concluded.