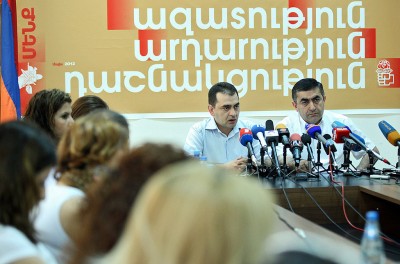 The meeting among ARF-D and Heritage (Zharangutyun) party representatives was added to the ARF-D-initiated series of consultations between the political parties of Armenia. The meeting took place on November 22, at Heritage party's premises with the participation of Armen Rustamyan, Aghvan Vartanyan and Arsen Hambartsumyan from ARF-D and Heritage party's Vice-Chairman, Armen Martirosyan and Hovsep Khurshudyan.
ARF-D Supreme Council Vice-Chairman, Arsen Hambartsumyan stated that the meeting lasted for almost an hour during which the sides elaborated on ARF-D's seven-point platform. Hambartsumyan said that the approaches around almost every point were common and on some, further clarifications were given. Hambartsumyan also said that Heritage party's board will assess the results of the meeting.
The ARF-D member considered the meeting a good ground for future cooperation.