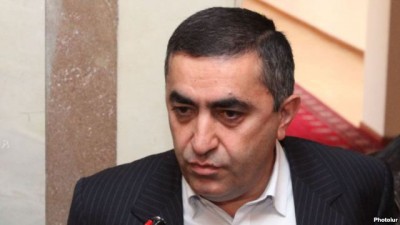 (Azatutyun.am, November 30) – The Armenian Revolutionary Federation (Dashnaktsutyun) and other major opposition force have made no progress so far towards the possible nomination of a joint candidate for the upcoming presidential election, a Dashnaktsutyun leader said on Friday.
Armen Rustamian said his party has yet to drum up broad-based opposition support for support for constitutional and other major changes which it believes should be enacted in Armenia.
Earlier this month the opposition party unveiled a 7-point pre-election "agenda" that calls for Armenia's transformation into a parliamentary republic, the holding of parliamentary elections on the solely party list basis, independence of the national judicial system and separation of big business from government. The document also envisages a "military- political alliance" between Armenia and Nagorno-Karabakh and the annulment of the 2009 Turkish-Armenian protocols strongly opposed by Dashnaktsutyun.
Dashnaktsutyun leaders have since held political consultations with the Prosperous Armenia Party (BHK), the Armenian National Congress (HAK) and other major political actors on this platform.
According to Rustamian, none of them has so far voiced full support for Dashnaktsutyun's agenda. He made clear that without such backing his party will not consider endorsing presidential candidates nominated by other opposition forces.
"It is the realization of this agenda that must be promised by the possible joint candidate," Rustamian told RFE/RL's Armenian service (Azatutyun.am). "This is the key issue. Switching to a discussion of the joint candidate before this issue is addressed would create problems."
In his words, the HAK is against turning Armenia into a parliamentary republic, while the BHK is in no rush to embrace other Dashnaktsutyun ideas. "The authorities also disagree [with the idea of the parliamentary republic.] So what's the difference [between them and the HAK?]"
"Those who disagree make us suspect that they simply want to use the same levers and only change persons," added Rustamian.
Neither the BHK nor the HAK have clarified their electoral plans yet. The BHK's millionaire leader Gagik Tsarukian is widely expected to officially announce his presidential candidacy soon.