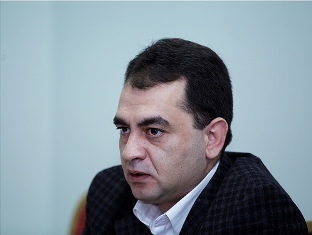 (news.am) – Armenia's political forces are not obligated to accelerate the publicizing of their platforms in the run-up to the presidential elections in February, opposition ARF Dashnaktsutyun Party member Arsen Hambardzumyan said during the respective intra-party discussions.
In his words, ARF is not impacted by foreign players when forming its political agenda. "We are an independent [political] force, we form our agenda independently, and we are against any foreign intervention," Hambardzumyan stated.
He stressed the importance of the talks with respect to the main provisions of the Electoral Code of Armenia. "That is why we introduced our agenda at the very beginning of the election season. Discussions should be held about the views," the ARF member noted.
According to him, instead of Armenia's body politic in general, it is primarily the country's media that expect a precise position from the political forces. "[But] I don't think each political force needs to express its position as soon as possible and to prepare a precise platform several months before the elections," Arsen Hambardzumyan said.
Photo by Arsen Sargsyan/NEWS.am