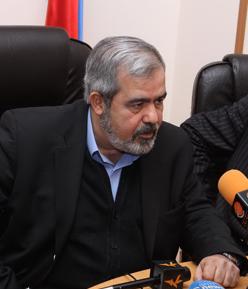 ARF-D Press Office issued a communiqué, stating that ARF-D Bureau Chairman Hrant Margaryan and Supreme Council Chairman Armen Rustamyan held a meeting with President Serj Sargsyan, in December 8. During the meeting that was long, the sides discussed about ARF-D's seven-point platform, which aims at radically reforming and sanitizing the state-public and political spheres of Armenia. The communiqué said that the sides agreed to meet again.
Today, Hrant Margaryan said to press representatives that the meeting with President Sargsyan was already scheduled and part of the series of meetings the party has been lately holding. Margaryan underlined that he will give a few details about the meeting with the leader of Armenia's Republican Party (HHK) although the results of the meetings with the other political parties have not been disclosed so far.
Margaryan said that President Sargsyan is against two of the ARF-D suggestions: the adoption of parliamentary republic system and the withdrawal of Armenia's signature from the Armenian Turkish protocols. Margaryan mentioned that President Sargsyan believes he has taken the right step on the protocols issue whilst as far as the parliamentary republic is concerned, Sargsyan has said that the governance system isn't the problem.