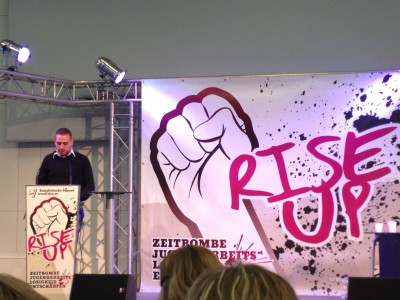 In December 8-9, a two-member delegation of the Youth Organization of ARF-D (AYF) comprised of Garabet Shadoyan and Lena Hovivyan, participated in the General Assembly of the Youth of the Socialist Party of Austria (SPÖ), in Vienna. Three hundred delegates representing different regions of Austria as well as members of the party and representatives from other countries took part in the General Assembly sessions.
The outgoing Executive Body of SPÖ Youth presented the activities performed during its term. Afterwards, the GA discussed about issues such as the citizenship of foreigners, job opportunities for the youth, student and women rights etc.
Taking the floor, the AYF representative thanked the SPÖ Youth for inviting the organization to the General Assembly and expressed his conviction that this could be a start for deepening the cooperation between the two Youths. Shadoyan asked the audience to draw their attention to the Genocide of the Armenians from the human rights point of view and pinpointed that the bilateral economical, political and other relations between Austria and Turkey must not become reasons to forget about justice.
During the joint meeting of the Austrian and Armenian delegations, the SPÖ Youth representatives expressed their will to continue and expand the cooperation with AYF.
ARF Youth Office