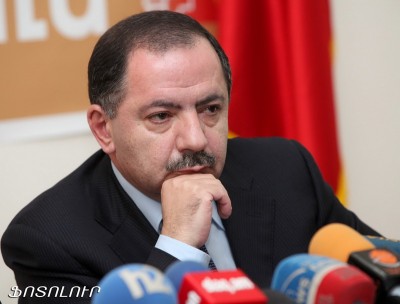 Asked by journalists about why ARF-D was the only oppositional party to be invited to the Congress of the Republican Party of Armenia (HHK), ARF-D Parliamentary Faction Secretary, Aghvan Vardanyan advised them to pose that question to the Head of RPA Parliamentary Faction, Galust Sahakyan. "We are civilized people, we are a political force functioning in the same country. It's out of courtesy that we came. How ugly it would have been not to come?" Vardanyan said.
In response to Sahakyan's statement to tert.am that HHK will invite Rule of Law (OEK) and ARF-D, the political forces that cooperate with the party, Vardanyan said that the statement was wrongly formulated. "We are in the opposition. The opposition cannot support the candidate of the ruling force. If by that, they meant working in the same place then that is possible. I don't see another form of cooperation" stated Vardanyan.
Asked about whether ARF-D will join the coalition after the presidential election Vardanyan said that that would be possible only in exceptional circumstances. "ARF-D is a political party of the opposition and it will stay that way. No-one can predict what will happen. Considering the current situation, ARF-D has no desire in returning to the coalition".
As far as ARF-D having its own candidate, Vardanyan said that it will all be clear after December 25, when the party's Supreme Assembly will convene.