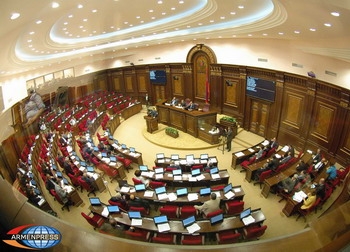 With 66 votes in favor, 28 against and 1 abstention the Parliament of Armenia approved in the first reading, the draft of the government on amending the procedure of the formation of the Committee on Ethics, yerkirmedia.am reports. Prior to the voting a session chaired by the Speaker of the Parliament, Hovik Abrahamyan took place as a final effort from the coalition to persuade the other political parties to come to a consensus on this matter. During the meeting the opposition presented its own proposal.
At the voting which took place during the plenary, the opposition, ARF-D, Armenian National Congress (HAK) and Heritage (Zharangutyun) and the self-proclaimed "alternative" option, Prosperous Armenia Party (BHK) casted their negative votes while the necessary 66 votes in favor came from the coalition: the Republican Party of Armenia (HHK) and the Rule of Law Party (OEK). Business as usual in the Parliament, with Republican Party's MP Murat Muratyan voting for a fellow MP as well and providing the minimum of the votes needed (watch footage, 0.36'' http://www.youtube.com/watch?v=6N5dAltrXVw&feature=player_embedded#!).
MPs of the opposition stated that even the consensus proposal cannot bring any change and that the opposition will boycott the Committee unless a substantial solution is given.
ARF-D proposed not to politicize the Committee, omit the components of political nature and that the political parties have only one representative in the Committee.
"Today, they propose the consensus-plus-1 version, meaning, the decisions must be taken with at least 5 votes out of 6. We suggest that we discuss over those issues that will have to be decided this way. Otherwise there is no point in keeping the Committee since any issue can be approved or rejected with the cooperation of the coalition parties' vote" said Head of ARF-D Parliamentary Faction, Armen Rustamyan.
According to panarmenian.net co-author of the draft, MP of the Republican Party, Arpine Hovhannesyan said that although there is no agreement at the moment, still there is room for cooperation. Prosperous Armenia MP, Stepan Margaryan stated that his party could change its vote until the second reading takes place.