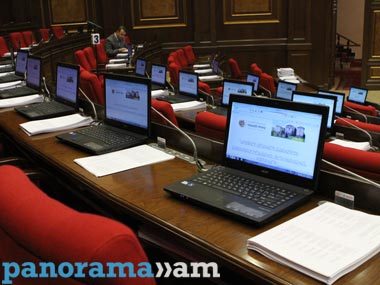 Ruling Party Makes Concessions On Parliament Panel
(azatutyun.am, December 19) – The pro-government majority in Armenia's parliament on Wednesday effectively abandoned its plans to end opposition control over one of its 13 standing committees.
President Serzh Sarkisian's Republican Party (HHK) and its junior coalition partner, Orinats Yerkir, on Tuesday moved to ensure that they and four other parliamentary factions are equally represented in the Ethics Committee.
The HHK and Orinats Yerkir currently control two of the six seats in the committee headed by an outspoken opposition deputy, Nikol Pashinian. The initial version of a bill put forward by them would give them two more seats and empower any committee member to veto decisions made by the panel.
The opposition minority in the National Assembly condemned the bill and threatened to boycott the committee if it is passed. Opposition deputies said the proposed changes to the parliament statues were put forward in retaliation for Pashinian's bitter row with Davit Harutiunian, a senior HHK lawmaker.
The HHK watered down the bill in response to the criticism. Under its final version passed by the parliament, the HHK and Orinats Yerkir will be represented in the committee by only three deputies. None of them will be able to single-handedly block decisions backed by the four other members representing the Prosperous Armenia (BHK), Dashnaktsutyun and Zharangutyun parties as well as the Armenian National Congress (HAK).
"Some acceptable provisions have been added to the bill," said Naira Zohrabian, a senior BHK lawmaker. "Prosperous Armenia will continue participating in the work of the committee unless, of course, more changes are later made [in the parliament statutes.]"
Dashnaktsutyun's parliamentary faction also dropped the boycott threats after the concessions made by the HHK. The two other opposition factions said, however, that they will still consider withdrawing their members from the Ethics Committee.
By Astghik Bedevian
——————————————————————————————————————————————–
Before the second reading, the Speaker of the Parliament announced a 20-minute recess which proved to be in the benefit of the coalition since present in the session were less than 66 MPs, the minimum number of votes needed to adopt a law.
Finally, the coalition's draft was passed in the second reading, due to the votes of its MPs. ARF-D voted against and the rest of the opposition abstained.
By the new law, the Committee on Ethics will be comprised of three MPs from the ruling majority, three from the opposition and one non-ruling majority, non-oppositional MP.