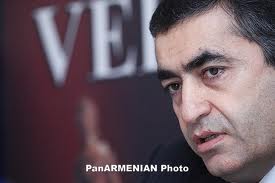 Www.1in.am reports that the Head of the Armenian delegation to the Parliamentary Assembly of the Council of Europe (PACE) and ARF-D Armenia's Supreme Council Chairman, Armen Rustamyan while talking about the upcoming presidential elections during the winter PACE sessions, said that there's something wrong if the main on-parliament parties do not participate in the elections and that the situation will not change with these elections in addition to the fact that the population's 80% doesn't trust their outcome.
"As a result of all these, participating in the election process can only be an end in itself. By not taking part, we fight better in curing the disease, we point out the defections of the process" Rustamyan said to Yerkir Media. He noted that ARF-D will orient party supporters and that he will vote against all candidates by casting an invalid ballot. In Rustamyan's opinion the authorities have taken off the "against all" option so as to rule out any grounds for boycott.
As far as ARF-D is concerned, Rustamyan said that the party is not in silence mode. It is active and criticizing these elections as being both fake and nothing more than a formality. "ARF-D is never in a tough situation if people are in a good one. We presented our propositions on how the country could come out from the current situation; one platform, one candidate and we could have true elections". He also added that the parties running for presidency blame those who don't rather than the rulers for creating such a situation. "Our constituency doesn't want to be part of a formality; it wants to turn the page with our participation" Rustamyan said arguing that it doesn't worth participating for a 10-15% and therefore disappointing the electorate.
Rustamyan clarified that the candidates who said they accept ARF-D's seven-point platform should have incorporated it so far in their own plan, otherwise it seems like they only said so just to win ARF-D's support.
Finally, Rustamyan denounced the rumors that have ARF-D members working in favor of the incumbent President's reelection by stressing that no ARF-D member is working for any candidate whatsoever and that the party has publicly announced that it excludes supporting the ruling party's candidate.