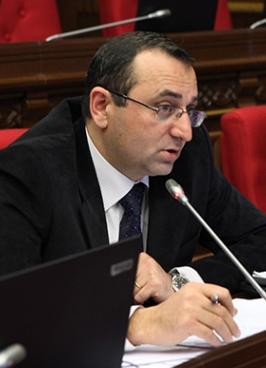 During the Parliament's second reading, ARF-D Parliamentary Faction member Artsvik Minasyan stated that the draft law "On Provision of Equal Rights and Equal Opportunities for Women and Men" is just a mere formality, tert.am reports. Moreover, Minasyan underlined that the draft is a result of an engagement undertaken by Serj Sargsyan in 2009 and that gender equality is one of the key elements of the human rights defense strategy.
The draft law if adopted, it will be the first and will complete the constitutional norm which guarantees gender equality.
Minasyan said that although belated, this is a necessary draft law. The fact that it is a mere formality and contains no such mechanisms assuring true gender equality is another issue according to the ARF-D MP. Elaborating on this last point he said that the state, the government and the executive power should be the first to apply gender equality but this is not fixed in the draft. Minasyan reminded that ARF-D did propose so, but the government declined saying that this issue should be left to the practical implementation of the policy hence disregarding the very norm, he said.
It is highly important to demonstrate the philosophy beneath the draft. This is not an issue of equality between men and women, this is more about handing the opportunity to both genders to use their scientific, cultural, financial, political resources in achieving equality.
In Minasyan's opinion the draft law is a formality because it doesn't include those necessary mechanisms that can be found in other laws like the one about community service or labor legislation.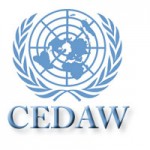 Tert.am reminds that in 1993, Armenia ratified the UN Convention on the Elimination of All Forms of Discrimination against Women and that by Article 7 of the Convention, the authorities are compelled in taking practical measures to ensure equal participation of men and women in the state policy-making process.
Prosperous Armenia Party MP Naira Zohrabyan voiced concern that the adoption of this law will only be superficial and expressed her hope that in the future Armenia will have much more "adequate governments" who will approve the presented proposals. Zohrabyan explained that she is against "positive discrimination" citing that both genders must regulate equality in a natural way but she stated that if the coercion of the law has a somewhat positive effect on people's mentality then it is possible to follow that path, as well.
Co-authors of the draft are the Government and "Rule Of Law" party MPs, Heghine Bisharyan and Hovhannes Margaryan. Public hearings have been taken place after the first reading's approval last year.
Bisharyan agreed with Arstvik Minasyan, however said that she thinks it is important to first adopt the law and then "enhance" it with various amendments.