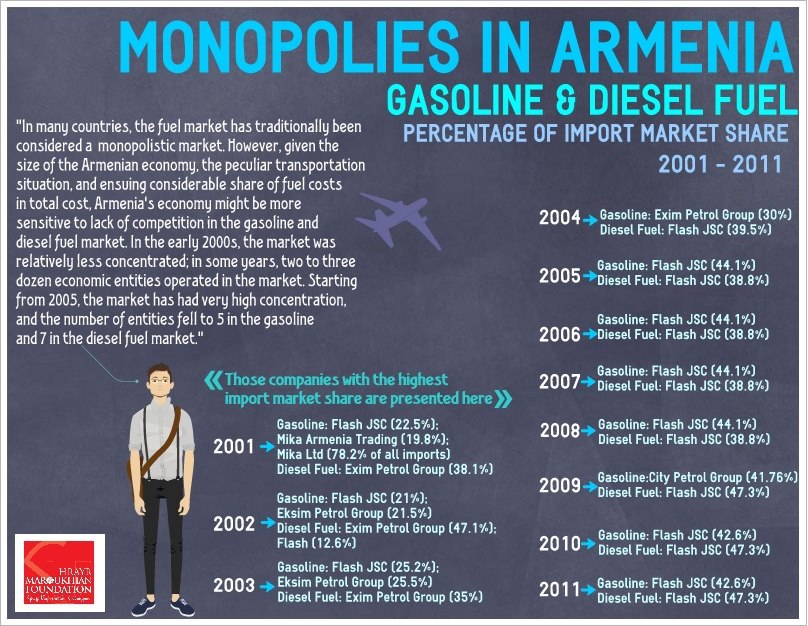 The Hrayr Maroukhian Foundation (HMF), with the financial support of the Friedrich-Ebert-Stiftung (FES) of Germany presented its study entitled, "Monopolies in Armenia" on February 11, 2013 at Ani Plaza Hotel in Yerevan. The HMF working group presented their findings regarding monopolies in the Republic of Armenia, which included the current situation of the markets in Armenia, international experience in combating and regulating monopolies, they analyzed the activities of the RA's State Commission for the Protection of Economic Competition (SCPEC) and made recommendations for a new model to regulate monopolies in the country. Members of civil society, economists, university professors, representatives from the SCPEC, political parties, international organizations and embassies participated in the event.
In her opening remarks, HMF Director, Maria Titizian mentioned that the level of monopolies is Armenia is quite high. Although much is said about this phenomenon still its regulation and practical matters around it are less researched, she said. The purpose of this study is to explain the role and the effect monopolies have on the Armenian economy.
ARF-D Bureau member, Davit Lokyan argued that monopolies are a major problem mainly for newly establishing countries. "Monopolies have a big influence on political developments. In our country monopolies have a history of 10-12 years old. Their activity especially on consumption affects largely the country's economy. Monopolies are an obstruction for the development of both the economy and the industry. Appropriate remedies are necessary" Lokyan said. In his opinion it is the state that must not allow the obstructive role monopolies have on the development of the economy.
Former ARF-D Member of Parliament and co-author of the study, Ara Nranyan, stated that speaking about monopolies in Armenia has lost its real meaning because everyone is reconciled with the prevailing situation. He pointed that especially now that we are in the dawn of political developments, publishing studies such as this reminds the public that if it wants to bring a change in the country then it needs to do a consistent work in that direction.
Speaking on behalf of the Friedrich Ebert Stiftung, Michael Weichert, regional coordinator for Europe, said that monopolies exist not only in Armenia but in European countries as well, like Germany. Weichert stressed how competitiveness is an important ingredient in the process of the economy's development. He underlined that monopolies affect state politics and that they are forced in doing so, in order to protect themselves. According to Weichert, political parties need the assistance of both individuals and businesses. Finally, he added that monopolies pose a threat not only to the economy but to democracy, as well.
To download the English version of the publication click on this link http://www.maroukhianfoundation.org/english/wp-content/uploads/2013/02/Monopolies-eng-web.pdf)