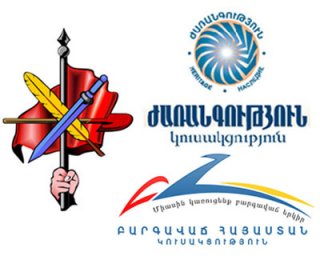 Consultations between the political parties to form a joint list for the Yerevan municipal election have taken place. On March 8, Armen Rustamyan and Aghvan Vardanyan from ARF-D, Ruben Hakobyan and Hovsep Khurshudyan from Heritage (Zharangutyun) party and Vartan Oskanyan and Naira Zohrabyan from Prosperous Armenia (BHK) party met at the ARF-D Supreme Council of Armenia "Simon Vratsyan" premises. Yerkir.am reports that although the Armenian National Congress (HAK) party was in favor of a unified list still it sent no representative to the meeting. Rumor has it that Heritage was against ANC's participation but this was denied and described as false information by the party's spokesperson Hovsep Khurshudyan. "We weren't this meeting's initiator and I cannot say why ANC didn't participate. We are open to cooperate with all opposition powers. This is the second day that we discuss with ANC about defining the form of cooperation" Khurshudyan said.
Commenting on the meeting, Vardanyan told Yerkir.am that since consultations between the three parties existed previously it was decided to hold the meeting with this format. There is something vague as far as ANC is concerned, past ANC doesn't exist anymore and the new one hasn't yet been organized, Vardanyan said. There will be a meeting with ANC as well, he said, in case such need rises and added that "We have stated that we are in favor of an alliance between non-ruling parties". In reference to the meeting's results, Vardanyan said that there hasn't been any final decision and that discussions will go on.
Oskanyan and Zohrabyan didn't want to make any comment with the latter stating that there is an agreement not to comment. In reply to a question by "H1+" Armen Rustamyan said that "We continue with the previous format. ANC must decide itself whether it will or not take part. ANC status isn't clear". Rustamyan repeated that for ARF-D the unification of non-ruling parties is the right thing to do and that to achieve that "ARF-D is ready to limit some of its claims".
ARF-D's separate candidate list, not excluded
Aghvan Vardanyan said to panorama.am that ARF-D's separate run for the May 5 municipal election is not excluded. "Consultations are going on, there are many options. We'll live and see how it goes" Vardanyan replied to a question about the possibility of ARF-D allying with Prosperous Armenia party. Panorama.am reminds that during a special session of the Political Council of the party, the party's President, Gagik Tsarukyan announced that Vardan Oskanyan will head the party's list. Earlier, Zohrabyan had stated to panorama.am that if around BHK a wider alliance would be possible then BHK would support that.
In his opinion, Heritage party spokesperson, Hovsep Khurshudyan believes that Raffi Hovhannesyan cannot be part of a circle around BHK. When asked about whether under these circumstances ARF-D would choose BHK or Heritage, Vardanyan said "All options are possible. There is also a third option, that of ARF-D running separately".