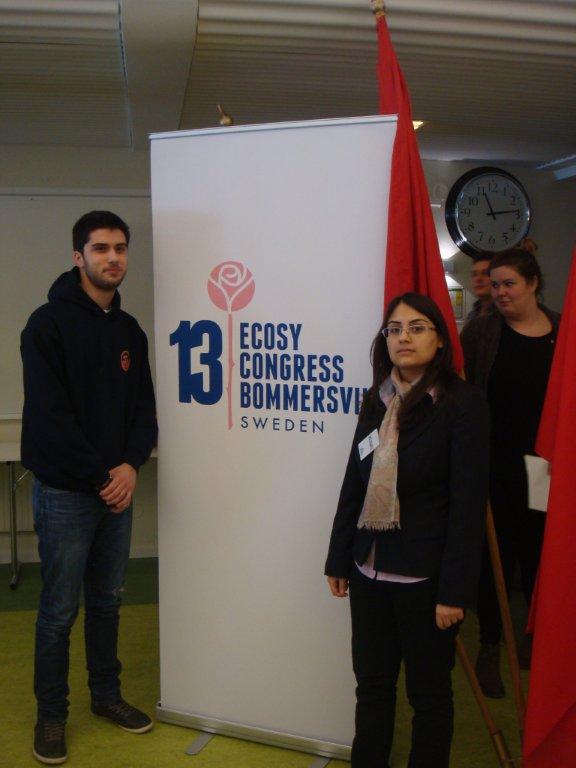 On March 7-10, 2013, a two-member delegation of the Armenian Youth Federation (AYF), comprised of Azatoohi Simonyan (Armenia) and Aren Kertedjian (France) took part in the 11th Congress of the European Community Organisation of Socialist Youth (ECOSY) that was convened in Bommersvik, Sweden. AYF holds an observer status within ECOSY.
Party of European Socialists (PES) President, Sergei Stanishev addressed the Congress through video.
During the four-day sessions, the delegates listened to the report of the outgoing presidium, and decided upon the organization's general principles and guidelines for the coming term. They confirmed the two-year term's budget and finally elected the new presidium. President Kaisa Penny (Finland) and Secretary General Thomas Maes (Belgium) were reelected.
It is worth mentioning that the Congress decided to change the organization's name from ECOSY to Young European Socialists (YES).
At the margin of the Congress, the AYF delegation held meetings with counterparts from Israel, Bulgaria, Palestine, France, Turkey, Portugal, Norway and Greece where bilateral issues were discussed.
It should also be noted that AYF was the only participating organization from the Caucasus.
ARF-D Youth Office