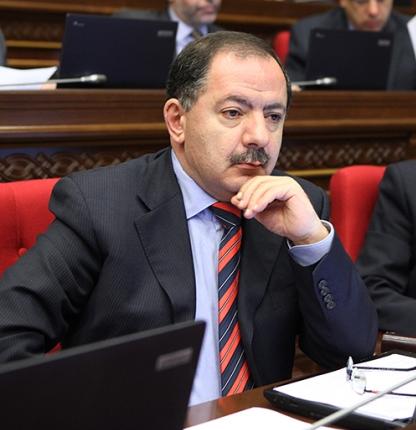 The post-election state in the country needs to be dissolved said ARF-D Faction Secretary, Aghvan Vardanyan, at the Parliament, today. "Ultimatums, testing patience, statements about not going to concessions are not taking us anywhere; for what is more, they are even deepening the gap between the society, the ruling power and the political parties" Vardanyan said.
The ARF-D member believes that everybody, including the parliamentary majority is well aware that it's time for foundational and radical changes in the country, yerkir.am reports. "If we are unable to discharge this situation we will be lowering the country's opportunities for development, we will have indifference, disappointment and emigration which is a serious panarmenian and statewide issue" he said and reassured that only a political consolidation can be a way-out of all these.
Vardanyan thinks that it is the duty and responsibility of both the ruling power and the opposition, in other words everyone, and no-one can escape that duty and responsibility. "We don't have enemies inside the country; yes, there are differences and disagreements but never enmity and the only way possible to change this situation is by making a political agreement. We think, the base for that exists if all the sides adopt a truly constructive approach. We have our own roadmap and we believe we can move forward with it" Vardanyan announced.
Explaining what the party's roadmap is, Vardanyan said that it foresees a radical change of the Electoral Law within a year, a passing to a 100% proportional election system, double voting exclusion, publicizing of voters' lists, holding of a referendum within the period of 2-2.5 years, amending the Constitution, conducting new parliamentary elections and finally forming a power-opposition system where the opposition will have control levers over the regime. "This is the only path" Vardanyan concluded.