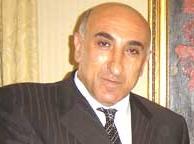 Yerevan has the potential of becoming a true capital city for the Armenians worldwide, a place where all Diasporan Armenians will be able to invest, open businesses, a place that can be the best city in South Caucasus, and why not, in the Middle East said ARF-D Bureau member, Davit Lokyan during a meeting with voters in Zeitoun.
Lokyan pointed out that ARF-D is perfectly aware of that potential and that that will be realized under the leadership of Armen Rustamyan. The ARF-D sees that some changes have been made in the city but there are not sufficient for the future and do not guarantee that Yerevan will sustain the competition among the cities of South Cuacasus.
"Therefore our suggestions for the city's development can be found in our platform. Our platform is the persepective of our city's strategic development, including not everyday tasks but a picture of the kind of city we want to have in 10 years from now; a guide to how our co-citizen will find work in Yerevan, get a normal salary and provide for his family" explained Lokyan.
The ARF-D member said that the party is putting its platform to the judgement of the constituency. If voters agree to that then they will have the best city in the wider region mentioning that the party's suggestions are not promises but well-studied projects.