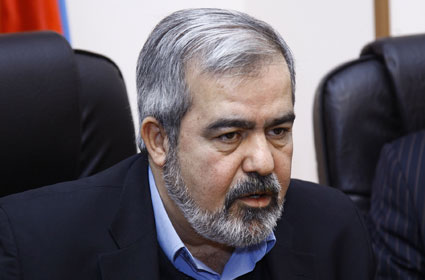 (source: azatutyun.am RFE/RL) – The Armenian Revolutionary Federation (Dashnaktsutyun) accused Prime minister Tigran Sarkisian on Wednesday of unleashing a smear campaign against the opposition party in response to its harsh criticism of the government's economic policies.
Hrant Markarian, the head of Dashnaktsutyun's worldwide governing Bureau, said that Sarkisian was behind recent media reports about serious discord within the party. According to those reports, many Dashnaktsutyun members in Armenia are unhappy with Markarian's leadership and want to oust him.
Markarian strongly denied any such revolt, while admitting that party activists were disappointed with Dashnaktsutyun's poor showing in recent major elections. But he insisted that the leadership of the pan-Armenian party has addressed that discontent. He said that Sarkisian spread the "dirty gossips" to retaliate Dashnaktsutyun attacks on his economic record.
"We neither love nor hate the prime minister" Markarian told RFE/RL' Armenian service (Azatutyun.am). "But he is a failed prime minister, and that is why he is using such methods to solve his issues."
"The prime minister has openly said on a number of occasions that he is declaring war on Dashnaktsutyun," he said. Sarkisian made such statements to members of his inner circle, he added.
As for how the ARF-D plans to counter the Prime minister's attack, Margarian said that this war will harm Sargsian, and not the party.
Commenting on the scandal with the off-shore company one of the owners of which appears to be the Prime minister, the ARF-D Bureau Chairman said that Sargsian has put himself in a laughing-stock situation.
Margarian repeated that Prime minister Sargsian should be dismissed, a claim that ARF-D has made numerous times before. "That is the minimum thing to do, if we don't want to kill our country's last flicker of hope" he said and added that it is not only the Prime minister who should go, but a lot of other state officials as well. As far as the President is concerned Margarian said "Changing the President depends on the people's will".
A spokesman for Sarkisian, Harutyun Berberian, dismissed Markarian's allegations, saying that the premier has never meddled in Dashnaktsutyun's internal affairs. "The Prime minister has always shown a lot of respect for traditional parties, viewing them as a national asset," Berberian told RFE/RL's Armenian service (Azatutyun.am).