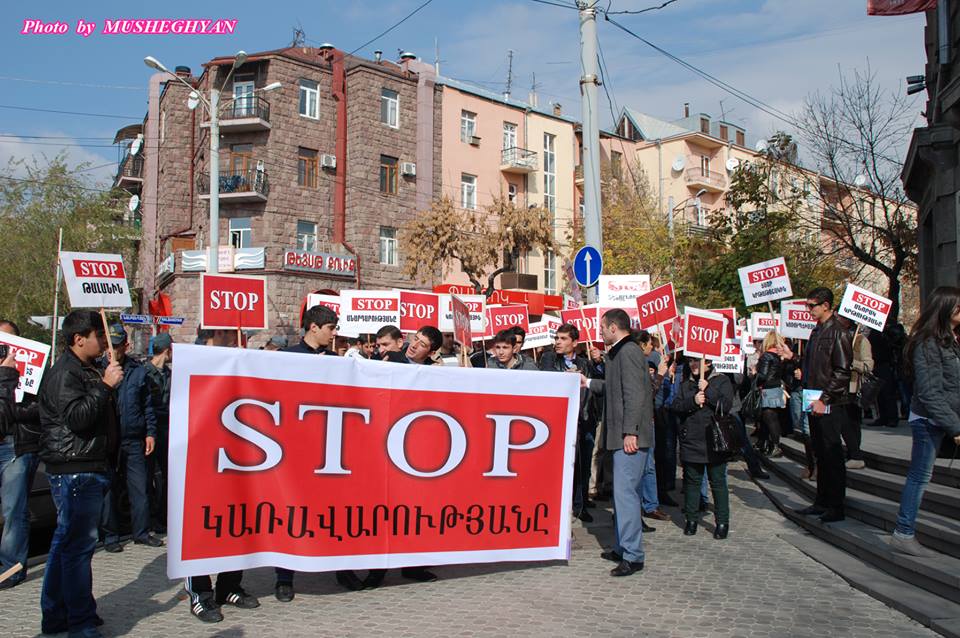 On November 14, on the occasion of the November 17 International Students' Day, the ARF-D "Nigol Aghbalyan" Student Association rallied on the streets of Yerevan, protesting against high tuition, low scholarships, emigration, corruption, monopolies, inefficient governance etc.
The protesters called the government to STOP the policies which have led the country into today's grave reality, Yerkir.am reports. More than 50 members gathered across the State Engineering University of Armenia and passed in front of other Universities asking the students to join them. It is worth mentioning that the Presidents of the Student Councils of those establishments were standing by and were closing the entrance doors, evidently concerned that the students might join the rally.
The "Nigol Aghbalyan" members reached the Government's building which was their final point, presented the Worst Governance Cup to the government representative, Alexander Ghazaryan who approached the protesters smiling but when informed about the meaning of the cup he refused to receive it and advised them to leave it at the reception. The students shouted "Leave" and then asked for the cup to be handed to Prime Minister Tigran Sargsyan.