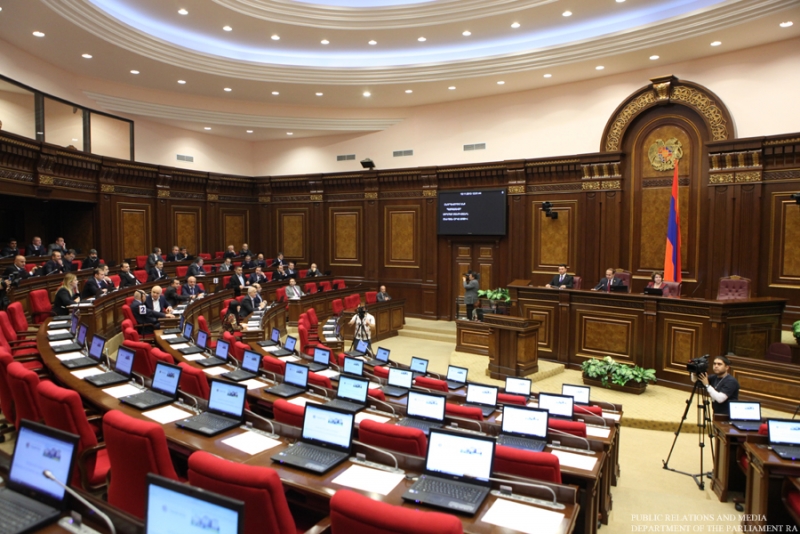 On November 15, 2013, an extraordinary session of the Armenian Parliament was initiated to discuss the postponement for a year of the implementation of the mandatory component of the pension system reform. The session did not convene because of the majority's (Republican Party of Armenia, Rule of Law Party) boycott. And this came just a day after the opposition MPs had agreed to the majority's suggestion of holding a special session in order to discuss the draft bill for the 2014 State budget. We find the majority's stance to be a sheer sign of contempt of the Constitution, a step to reverse the minority's constitutional rights and to avoid open criticism, an expression of intolerance and yet another effort of depreciating the role of the Parliament.
Sharing the concerns of thousands of citizens and dozens of organizations about the new system of pensions we find that all the citizens of Armenia, the present and the future generations will be the bearers of this system's negative effects; we condemn the Parliamentary majority's behavior; we find unacceptable the Armenian government's approach of implementing the mandatory component of the pension system reform as of January 1, and which doesn't stem from the interest of the citizens; we demand that the mandatory component be stopped, that wide discussions are held both in public and with experts, create open mechanisms to fully neutralize risks, make appropriate changes and hold a referendum for the final draft.
We will continue struggling against this system with the means provided by the Constitution of Armenia (by calling for a new extraordinary session, making appeals as foreseen constitutionally, organizing protests, supporting and uniting civic initiatives, strengthening public pressure against the government and by other means).
We urge all the citizens of Armenia to actively participate in this struggle. It aims at providing the citizens' right for a decent old-age.
Factions:
Prosperous Armenia Party – Nayira Zohrabyan
Heritage – Zaruhi Postadjyan
Armenian National Congress – Aram Manukyan
ARF-D – Armen Rustamyan
Not included in any faction – Khachatur Kokobelyan (Free Democrats)
******************************************************************************************************
(parliament.am) – On November 15 an extraordinary sitting of the National Assembly was convened by the initiator's established agenda under Article 70 of the Constitution of the Republic of Armenia on the NA deputies' initiative. At 12:00 corresponding number of deputies were not registered: 45 deputies were registered. In accordance with the paragraph 5 of Article 44 of the RA law NA Rules of Procedure, the deputies' registration continued for 3 hours, during which necessary number of deputies was not registered. By 15:00, 50 deputies were registered.
The RA NA President Hovik Abrahamyan announced the sitting not held because of not providing quorum.