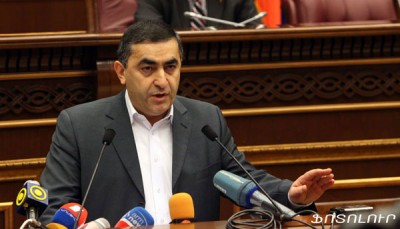 In December 4, Head of ARF-D Parliamentary Faction, Armen Rustamyan made the following statement from the Parliament's floor:
Dear compatriots,
As you know, ARF-D took the initiative of uniting society under the "with one agenda towards the presidential election" slogan. This initiative derives from our conviction that
– first, is imperative to form and accept those priorities, the realization of which can drive the country out of this economical vicious circle and provide a safe and rapid development,
– there is an acute distrust in society concerning elections,
– no political force concentrates, on its own, society's adequate trust,
– the only way to turn elections into a regime-change process is the joining together of the opposition forces,
– finally, the future of the country depends on how ready the future leadership of the state is to face up the challenges and undertake overcoming them.
Today, Armenia needs
– a national state direction so we never cede our interests and objectives in the pretext of development,
– freedom and democracy are necessary in order to develop and not cede,
– justice is necessary so, in the name of domestic solidarity, all get equal opportunities and profit from existing benefits. All the above are guaranteed with the implementation of ARF-D's seven-point platform. Consequently, without agreeing on a unified agenda as well as on its realization roadmap, looking for a joint candidate is simply fruitless and vain. At the same time, I want to clearly state that we don't see ourselves being superior to anyone but also no-one is superior to us. We are sticking to our platform as long as the country remains in a state of coma and tied up with these knots.
We invite everyone to a consultative discussion in December 6, so that we have the chance of elaborating on the potential of uniting under one agenda towards the presidential election, in front of a broader audience.