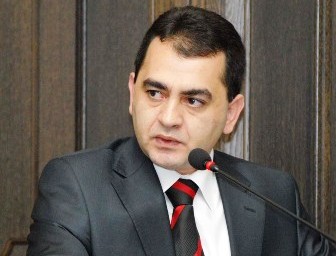 "In a couple of days we will launch our open meetings round with the public" said ARF-D Supreme Council of Armenia Vice Chairman, Arsen Hambartzumyan who is third in the party's list of candidates for the May 5 Yerevan municipal elections, yerkirmedia.am reports. "These are not a single-person elections" Hambartzumyan added and stated that besides the leading figures, all candidates will be active in campaigning so that the previously noted sad situation of voters not knowing the face or even the name of their elected city council members, is not repeated.
The ARF-D member also highlighted the nature of these elections which he said that are political. "Contrary to the efforts of certain political parties and especially of the ruling one, this is not about electing Taron Margaryan. In reality these elections are political; these elections are for City Council not for Mayor". Political monopoly must end. If we don't want to have an appointed mayor then the City Council's majority must not belong to the ruilng regime. "An appointed mayor, regardless of his character, cannot be independent" Hambartzumyan said.
ARF-D has launched a special website http://www.arfd.am/yerevan2013/ where one can read the platform, see the party's list of candidates, and follow news and announcements concerning the Yerevan municipal pre-election campaign.